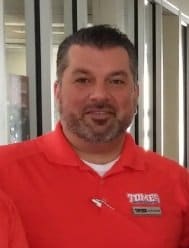 At Bob Tomes Ford we want our customers to get to know our dealership better, and what better place to start than with our employees. We love all of our employees and they love serving McKinney with great Ford vehicles. This month we are featuring our employee of the month, Shahram Soleimanei.
What Department do you work in? Finance Department
Where did you go to school? University of Utah
Spouse or S.O.? Angela
How long have you been together? 26 years
Any Children? Brandon (19), Logan (14), and Nathan (12)
What are some of your hobbies? Spending time with my family and Soccer
What would your last meal consist of? Chinese Food
What is your favorite restaurant? Cheese Cake Factory
What's your favorite TV show? The Walking Dead
What's your favorite movie? American Sniper
What's your favorite Ford vehicle? The Mustang
Who has had the greatest influence on your life? My mom and dad
What foreign country do you want to visit most? Australia
What's your Worst Habit? Time Management
What's your favorite vacation spot? Florida beaches
How do you define success? Providing better opportunities for my children
What do you love most about Bob Tomes Ford? It's a great family to work for and I love working with the great people here
We always enjoy highlighting our awesome employees. You can't learn everything from a few questions but we hope you feel a little better acquianted with the great people working here at Bob Tomes Ford. Check back next month and we'll have another Employee of the Month!