5 Things to Know about Collision Centers | Bob Tomes Ford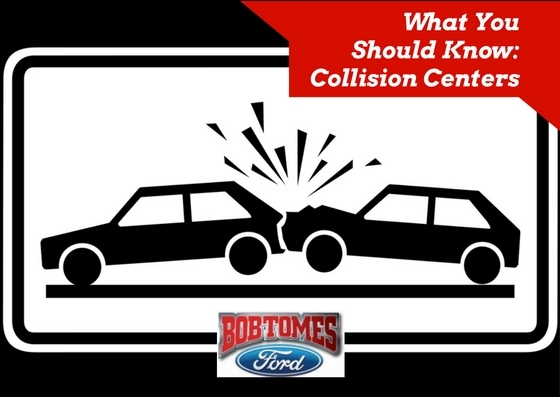 If you're reading this blog, then you must be in need of some auto damage control. Whether your vehicle suffered storm damage, a knocked mirror backing out of the garage, or was in a major accident, most drivers need some collision repair at some point. Luckily for McKinney, Texas, Bob Tomes Ford has a top-of-the-line collision center with technicians and advisors you can depend on. Bob Tomes Ford is proudly providing exceptional service and outstanding collision repair work to all those in need of a helping hand for their auto damage. Before scheduling an appointment or stopping by, keep in mind five things you should know about collision centers so you can come in totally prepared for the work ahead.
Learn more about our Collision Center here.
5 Things to Know: Collision Centers
1. Don't worry. You're in good hands.
If you're worried about the damage to your vehicle, we understand. Especially if you've been in a car accident, we know you're going through a stressful time. Don't let the decision of where to take your car add to your trouble. Our Collision Center has been around since 1983 and we know what's best for you and your car.
2. Get in touch with your insurance.
One of the first things you'll need to do is contact your car insurance provider. It's important to keep them informed of any and all issues your car is facing. Be sure all the damage to your car is claimed and documented. Luckily, Bob Tomes Ford is an authorized repair center for most major insurance companies!
Get our Collision Center warranty info here.
3. Don't drive a car that is potentially unsafe.
The last thing we want is for someone to be driving an unsafe vehicle. Not only could it cause more damage to your car, but it could be harmful to you and others on the road. Bob Tomes Ford wants all our customers to drive a safe and trusted vehicle. Don't hesitate to call a tow service; better safe than sorry!
Browse our Collision Center FAQs here.
4. Get a rental car.
Unlike your usual service or maintenance appointments, collision repair can sometimes take days or weeks to complete. Check with your collision advisor to get a timeline of the repairs and arrange a rental car if need be. Bob Tomes Ford has on-site rental cars so you can get back on the road as quickly as possible.
5. Stay in the loop.
Our top-of-the-line staff is known for their customer service and attention to detail. We want to keep you informed through every step of the collision repair process. Don't hesitate to reach out and ask questions about your vehicle's progress and updates.
See our full service department here.