Celebrating Truck Month with 10 Reasons to Drive a Ford F-150 | Bob Tomes Ford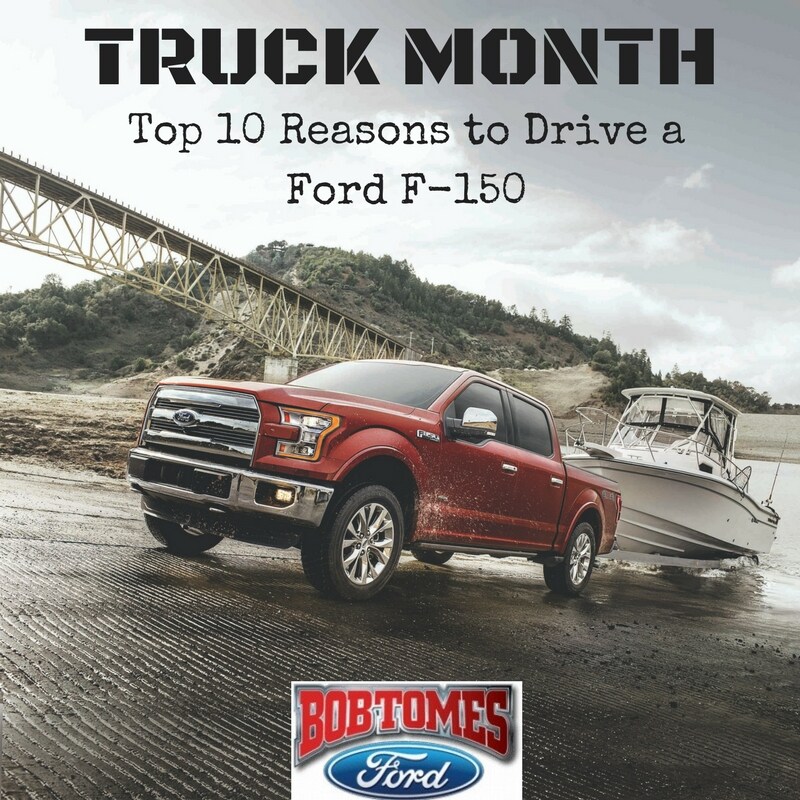 1. Toughness
The Ford F-150 has a well-established reputation of being a tough truck. With its tradition of always creating a truck with rugged styling and all-around equipment, the F-150 is the tough truck to beat.
2. Better Fuel Economy
We all know that trucks aren't known for getting the best gas mileage. That doesn't stop Ford from always working toward the right goals. With new Ecoboost engine option availability and up to 18 city/24 hwy mpg, the F-150 wants to help you save time and money at the pump.
3. Towing Power
With a wide selection of engine option availability, all-new 2017 Ford F-150 is giving the best possible towing power and powertrain performance. Haul your equipment with confidence in your F-150.
4. Safety Features
The Ford F-150 is paving the way for the future of vehicle safety standards. With advancements like the Blind Spot Information System with cross-traffic alert and trailer coverage, you can drive easy surrounded in top-of-the-line safety.
5. Style
Combining traditional Ford style with modern trends, the Ford F-150 offers premium, star-level styling. With the imposing grille, attractive head and tail lights, and trim enhancements down to the last detail, the F-150 is guaranteed to attract attention.
6. Innovation
Recent winner of Cars.com's award for "Best Pickup Truck 2017" and Edmund's award for "Most Wanted Full-Size," 2017 is coming up all Ford. Constantly innovating and pushing boundaries, the F-150 deserves every award it gets.
7. Many Choices Available
At Ford, we know there isn't a one-size-fits-all pickup for truck drivers. That's why we offer you options to fit your needs. With the Raptor, F-150, F-250, F-350 and beyond, you can build the truck for your lifestyle.
8. Luxury
While the most important part of a truck is that it can get the job done, Ford provides comfort and amenities so can live in luxury even when you're on the job.
9. New Diesel Engine Offerings
2018 is on track to be just as good as 2017 for F-150 drivers. The 2018 Ford F-150 will come with available and all-new 3.0-liter Power Stroke diesel engine. This will be the first ever diesel engine for the F-150 brand.
10. Top-Selling Truck
If you haven't heard the news yet, you might want to sit down. The Ford F-150 has been America's best-selling truck for forty consecutive years. This is unprecedented and the best reason why you should drive a Ford F-150.
Stop by Bob Tomes Ford and let us show you all the reasons why you should pick the F-150!