Go Further in the All-New Ford Mustang | Bob Tomes Ford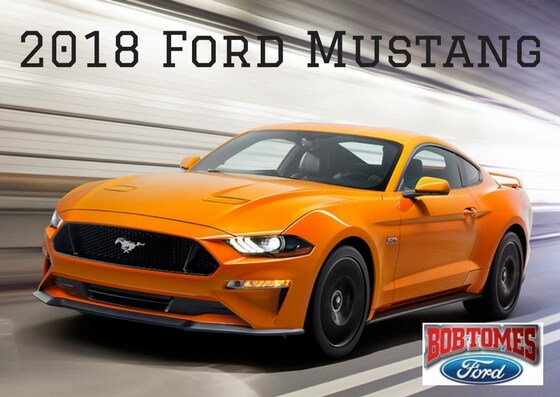 The Ford Mustang has come a long way since it first hit the road more than fifty years ago in 1965. With each new model came more improvements for capability, speed, and all-around good looks. 2018 is shaping up to be the year of the Ford Mustang ever since Ford debuted the new design last month. Coming to you first from Bob Tomes Ford, check out all the need-to-know details on the new Mustang.
· Smoother and sleeker design.
Staying true to Mustang traditions while also paving the way for a more modern design, the new Mustang has adapted to demands for the premium and affordable sports car. The new Mustang will have a more sporty and athletic aesthetic. With a fresh design on the front and rear ends of the car, it will be lean and built for more aerodynamic speed–perfect for the ultimate 'Stang driver.
· Top-of-the-line tech
Get more confidence when you're behind the wheel with the Mustang's advanced technology additions to the 2018 model. New tech features include a 12-inch all-around digital instrument display with personal customization capabilities. MyMode offers memory functionality that will remember all your preferred driving modes the next time you drive. Also added are superior safety features including Pre-Collision Assist with Pedestrian Detection.
· Premium Performance
With advanced upgrades to the engine, including brand-new available 10-speed automatic transmission, you'll get all the power and performance you need. When it comes to Ford, we know what our customers expect out of each of our vehicles. Get the roaring engine you want with the all-new 2018 Mustang.
We'll be patiently waiting for these models to start rolling onto the lot at Bob Tomes Ford. In the meantime, check out all our available models in stock to hold you over until we see more about the 2018 Ford Mustang!
Check out more about the available 2017 Ford Mustang here.